Columns Properties Editor

This topic has downloads
.
The SAS/Explorer column property editor lets you change the values of certain attributes of a column; but only one column at a time. It takes a few clicks and context menu choices to raise the edit dialog. There has to be a better way!
---
There once was a better technique! Set the way back machine to SAS Version 6 -- tune into the VAR window

The R line command was used to R-ename a variable and change its properties of format, informat and label.
---
Have a nice trip? Welcome back to the present... and a new way, a column properties editor built with SAS/AF technology. The editor will run in any SAS v9+ interactive session (and probably v8, not tested) and does not require SAS/AF to be licensed.
The column editor presented in the column tab is reminiscent of the SAS Version 6 VAR window. All the columns are shown, and any number of their properties may be edited simultaneously in the resizeable dialog window. A data tab is provided to allow a quick check of the effects of any changes applied.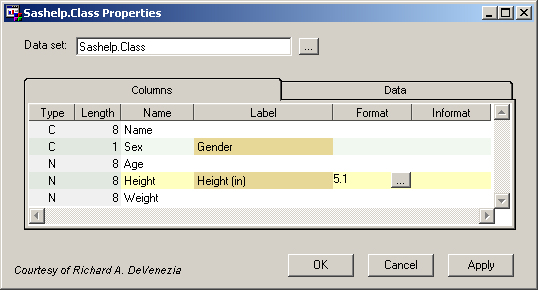 Open the editor by issuing the command:
AFA C=SASUSER.EXPLORER.DATA_PROPERTIES.FRAME
or
AFA C=SASUSER.EXPLORER.DATA_PROPERTIES.FRAME DATA=libname.memname
This editor was first made available as part of action set devenezia-1.
Using techniques discussed in "SAS Explorer Actions", the editor can be invoked by selection from a data members SAS/Explorer context menu.
Copyright 2006 Richard A. DeVenezia This page was last updated 01 December 2006.