Multipoint Color Gradient Generator
by Richard A. DeVeneziaSend Feedback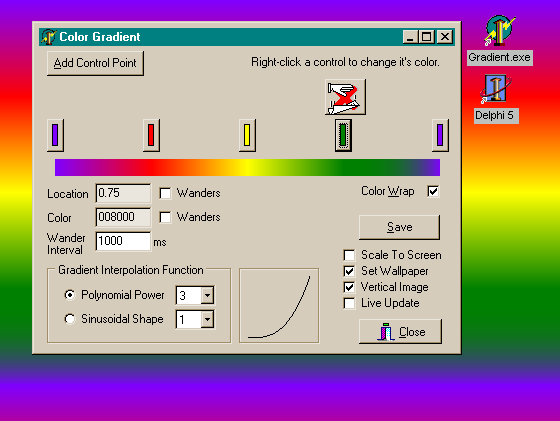 198kb zip
The Multipoint Color Gradient Generator is a Windows application that creates a color gradient bitmap. The height (or width) of a saved bitmap is one pixel.The application was developed and tested on a Windows/NT machine.
27kb zip
Borland Delphi 5 source code.
Learn more about Delphi at Borland's Delphi website.
Future enhancements would include saved configurations and color themes such as time of day or seasons.
Can also be found at
This application has been placed on Delphi32.com as Color Gradient Generator V1.0

Copyright 2000 Richard A. DeVenezia This page was last updated 24 June 2001.